Impact ECT Cluster
Our 7 schools form our own ECT Impact Cluster Group offering the full ECT Induction Programme via a combination of face-to-face sessions, self-directed study and online discussions in conjunction with our delivery partner Thames South.
ECT Programme: The Full Induction Programme (FIP) comprises 3 parts:
• Core Induction Programme (ECT self-study and school-based mentor meetings)
• ECT training programme
• Mentor training programme
The Core Induction Programme will be completed using the UCL Extend Platform and all ECTs, ECT Mentors and Induction Tutors will have full access to the programme resources. The ECT training programme and Mentor training programme is delivered by experienced Facilitators at face-to-face meetings and online sessions.
Benefits of the ECT Impact Cluster include:
• Teachers in our Trust are skilled professionals with a wealth of knowledge and experience - collaboration between our schools will enable the sharing, development and application of this knowledge and experience to ensure excellent learning for our ECTs and ECT Mentors
• The growth of a support network between colleagues at all levels within our schools
• A deeper understanding of the context(s) in which we work and the implication of this for our practice at both a school level and Trust level
• The development of a rich, complex knowledge base across the Trust which continues to grow, year by year
• Targeted training to develop highly skilled mentoring for our ECTs
• The ability to reflect on and evaluate teaching and learning in our schools and tailor our programme according to the needs of the Trust and our ECTs and ECT Mentors
• Our schools are local which means face to face sessions at different venues is possible
• Staff from our schools can have the opportunity to deliver bespoke sessions to our ECTs
• Mentors can be flexible with weekly Mentor sessions and collaborate with other colleagues with the delivery of the module materials and area of focus
• A sustainable model, growing a team of professional, skilled and effective facilitators across the trust, to enable the facilitation of subsequent ECT cohorts.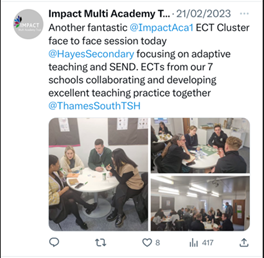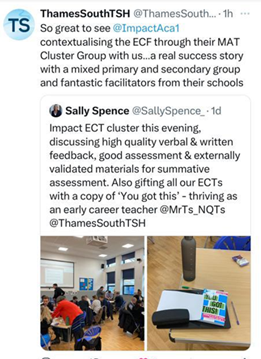 Feedback from UCL and Thames South Teaching School Hub during Module 3 visit
'The facilitators were clearly aware not just of the phase of all participants but of the exact school context of most of them. They also tailored their own professional experience and their knowledge of the participant's settings to make the learning highly relevant. Excellent knowledge of the participants and their contexts enabled the facilitators to tailor features of the session at an individual level, often reflecting back on learning from previous sessions'.
Stephen Calladine-Evans (UCL Institute of Education) and Lee Pender (Thames South Teaching School Hub) January 2023
For a full list of all the key dates for the 23-24 programme click here.
Our ECT Cluster facilitators and their roles
Leader

School

Roles

Gary Hunt

RWS

Assistant Headteacher (Current facilitator). BSC senior mentor. Lead facilitator Greenwich cluster. Facilitator Planning lead for Thames south

Impact ECT Cluster Strategic Lead

Ben Southworth

RWS

Subject Lead Education

Impact Cluster Year 1 ECT Lead

Chloe Bush

LPGS

Lead Practitioner

Impact Cluster Year 1 Facilitator

Jenny Labuska

Hayes

BSC senior mentor. Co-facilitator for Greenwich cluster

Impact Cluster Year 2 ECT Lead

Lauren Ogbechie

LPSB

Assistant Headteacher Teaching and Learning

Impact Cluster Facilitator

Donna Whiteman

HDPS
Primary School
Deputy Headteacher

Impact Induction Tutor